The effect of nosebands on horse's eye and skin temperature
Tight noseband affect most horses significantly. Therefore, this study aimed to investigate the effect of double bridles and nosebands on the temperature of the eyes and facial skin.
A standardized two-finger taper gauge, based on the mean circumference of adult index and middle fingers, was developed. Thermography was used to assess eye and facial skin temperature in five horses. Measurements were taken with an unfastened noseband, a noseband tightened with the use of the taper gauge at the side of the mandible, a noseband tightened with the use of the taper gauge at the nasal plane, and fully tightened. A control group was used to compare the measurements.
Results showed that nosebands were fastened significantly tighter when the taper gauge was used beside the mandible than at the nasal planum. A significant increase in eye temperature was found in horses wearing double bridles and nosebands that were tightened with and without the taper gauge. The tighter the noseband was fastened, the cooler the facial skin of the horses when compared to the control group.
The authors emphasize the importance of an objective measure of the assessment of noseband fastening and the need for clarification on precisely where any standardized gauge should be applied. The increase in eye temperature shows an increase in the stress response and the decrease in facial skin temperature show that tight nosebands can interfere with local vascular perfusion.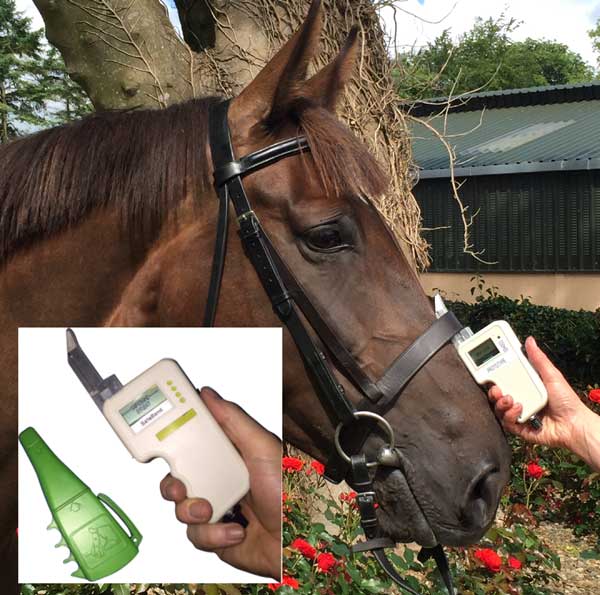 A digital taper gauge developed by researchers to measure noseband tightness on horses, quantifying the force being applied (research article: http://journals.plos.org/plosone/article/file?id=10.1371/journal.pone.0168996&type=printable)
What do you think about overtightening of nosebands?
Do you think the FEI should take more responsibility in this matter?
Do you think a (digital) taper gauge can be a solution at competitions?
> From: McGreevy et al., J. Vet. Behav. 7 (2012) 142-148. All rights reserved to Elsevier Inc.. Click here for the online summary.