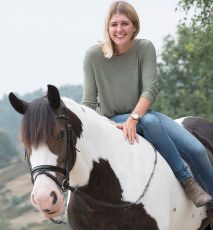 Debby Gudden
BSc Animal Husbandry
MSc Equine Science
Horses have been my passion from ever since I was little. Throughout my whole life I've ridden and competed in several disciplines. I've gained experience at an international dressage stable and at an (equine) editorial office as part of my Bachelor degree Animal Husbandry.
Since recent years I've become very interested in scientific based knowledge related to horse riding. Therefore, I decided to study Equine Science at Hartpury College. With this degree I hope to expand my scientific knowledge related to equine performance, physiology of the equine athlete and welfare and behaviour.
I believe that scientific knowledge is the answer to solve equine related problems and to educate professionals in the equestrian field. Via Science & Equine I hope to contribute to this.