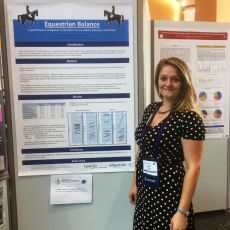 Sophie Delemarre
BSc Physiotherapy
My name is Sophie Delemarre. I've always been interested in biology and the human body. Therefore, I decided to study physical therapy. December 2016 I graduated.
Right now I'm working as a physical therapist in Den Bosch and Aarle-Rixtel. Besides the 'common' patients I treat equestrians with all kinds of horse-related problems and injuries.
Because little research is done on equestrians, I decided to use my expertise as a physical therapist to work with equestrians and to do research on equestrians and the horse-rider relationship. In July 2017 I've presented my first research (Equestrian Balance) at the European Congress of Sport Science. I hope to continue with further research in the future and to keep working in this field because working with horses (and their riders) turned into a hobby that got a bit out of hand!